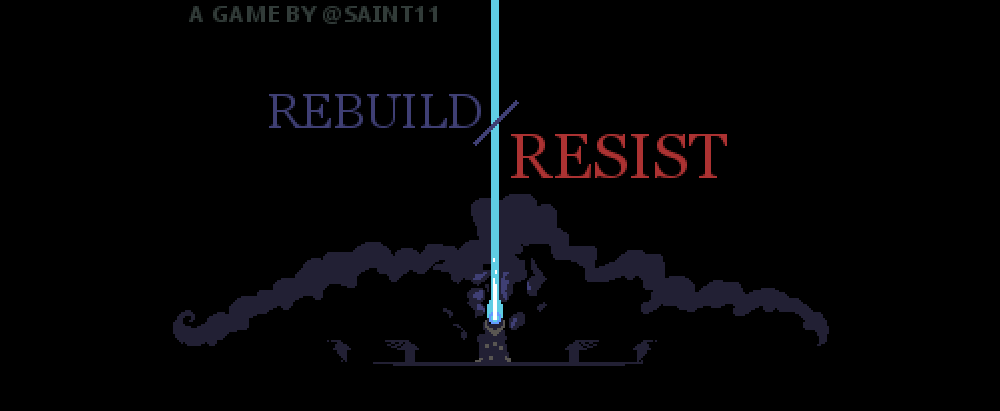 Rebuild / Resist
A downloadable game for Windows, macOS, and Linux
Rebuild fallen towns while surviving the hordes of ghosts...


A simple survival/strategy game based on loosely Kingdom made in 48 hours for Ludum Dare 34.

I like the basic idea here but I wouldn't consider it a full game. I might revisit it at some point and make an expanded version of it.

I used Löve for the game engine, BFXr for sound, Abundant Music for music and Aseprite for pixel art.
If you are on OSX or Linux you can download Löve here and play the .love file!


KNOWN BUGS:
- The game gets really fast on some computers, apparently Löve does not cap the FPS on some pcs. Still trying to fix it.

Download
Click download now to get access to the following files:
Rebuild-Resist-Win.zip
7 MB
rebuild-resist-2.love
3 MB
Comments
Log in with itch.io to leave a comment.
Apparently built for love 0.9.2 - so no longer maintained?
Yeah, we are not working on it anymore :/ but it should be compatible with the newest version!
Afraid it's not... I get a warning message then the next screen is a crash... do you want the error message? (I'm running Linux if that's relevant).
Re- your framerate cap issues: you can use love.timer.getDelta either to wait for frames or to modulate the size of each update (the latter is good policy IMHO, except for physics calculations which need to be deterministic).
This is really good-looking! I got lucky with picking a on-the-edge-working strategy in the final level.
Love the super simple controls! Would be a fun mobile game.
This game is good! Very good! I'd love for the developer to continue working on this!
I'm working on a full version for PC/Mac/Linux and Android/iOS :)
This would be amazing as an app.
I really want to try it when it's out!